Highlights & Recap
This year, the ACVIM Forum made the unprecedented transition to an online, interactive platform in the wake of the COVID-19 pandemic. The 2020 ACVIM Forum On Demand program brought veterinary specialists, general practitioners, students and technicians from around the world together in one, virtual space. Our goal was to offer each and every attendee the same cutting-edge research, educational sessions, world-class speakers and access to the latest products and services that they have come to expect from the ACVIM Forum – available to access at any time, from anywhere. With over 3,400 virtual attendees, 368 speakers and 45,500+ CE credits earned, we feel confident in calling the 2020 ACVIM Forum On Demand a success.
A special thank you to our Industry Partners for their help in making the 2020 ACVIM Forum On Demand possible.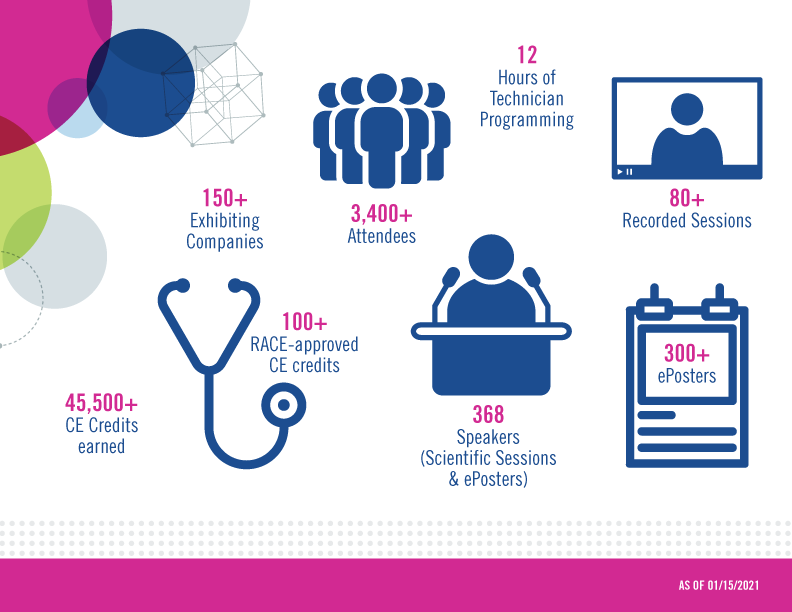 ---

Welcome, New ACVIM Diplomates!
While we could not meet in person for the Specialty Symposium this year, we extended a warm welcome to our new ACVIM Diplomates virtually.

Congratulations to the 165 new ACVIM Diplomates in the class of 2020!
---

The Solutions Center Goes Virtual
This year, the Exhibit Hall known as the Solutions Center went virtual, with 22 sponsors showing off the latest products and services inside the Interactive Floor Plan. Attendees could visit sponsors' virtual booths and connect directly with our Industry Partners. ACVIM Forum On Demand attendees also had access to exclusive deals, promos and giveaways in the Digital Grab Bag.
---

Celebrating our 2020 ACVIM Award Winners
In lieu of the traditional Awards Ceremony and Luncheon, the ACVIM celebrated the winners of both the Robert W. Kirk Award for Professional Excellence and the ACVIM Lee and Inge Pyle Distinguished Service Award virtually by inviting friends and colleagues to congratulate Dr. Becky Gompf and Dr. David Twedt using their online KudoBoards.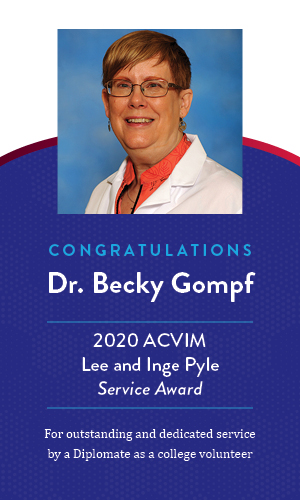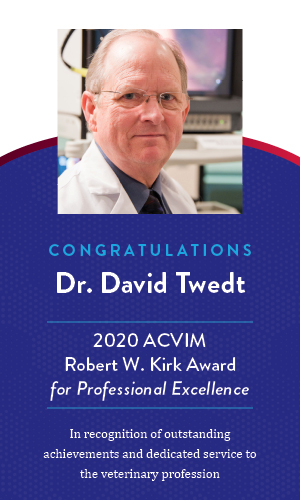 ---

Research Award Winners
Research dissemination is a primary focus of the ACVIM Forum, with 300+ ePoster Research Abstracts available for attendees to access. Join us in extending a big congratulations to the 2020 Resident Research Award winners!

---

The 2020 ACVIM Forum On Demand would not have been possible without the support of our Industry Partners.
Resources

Proceedings
Access to the 2020 ACVIM Forum Proceedings are available to attendees and ACVIM Diplomates and can be accessed by clicking here.

CE Certificates
The 2020 ACVIM Forum On Demand platform has closed as of February 18, 2021. If you need a copy of your CE certificate, please contact Forum@ACVIM.org.

eNewsletters
Missed an issue of the ACVIM Forum 2020 eNewsletter? View our archive here.