This page will be updated with the most recent information as it becomes available.
On-site Testing
Limited onsite testing will be available for individuals feeling ill during the event or NAAT testing for participants from international destinations are requiring a test result to return. The cost of onsite test provided by Vital Circle will be the responsibility of the conference participant.
Vital Circle will also provide on-site support and resources for participants who are not feeling well or become ill during the event. If at any time you feel ill during the course of the event, please connect with Vital Circle near the Registration desk at the Austin Convention Center.
Vaccinations or Negative PCR or NAAT Tests
As part of our commitment to meet safely at the 2022 ACVIM Forum, all participants (including guests) must provide proof of vaccination or a negative PCR COVID test within 48 hours of checking in at registration to receive your badge. Check out the
conference FAQs
for additional information.
Not feeling well? Let us know or make plans to stay home and participate virtually.
The ACVIM will enforce the COVID regulations agreed to during registration by all participants as a condition of onsite participation. This includes the stipulation that if you feel sick or are experiencing COVID-like symptoms prior to traveling to or while onsite in Austin you will reconsider your participation at the event. To help ensure your personal safety and comfort during the ACVIM Forum, the ACVIM is committed to robust and transparent communications during the event. For your own peace of mind, we recommend taking a COVID-19 test before you depart for Austin.
---
As a way of making everyone feel comfortable, we encourage attendees to pick up a sticker at registration to wear and let other attendees know your level of comfort: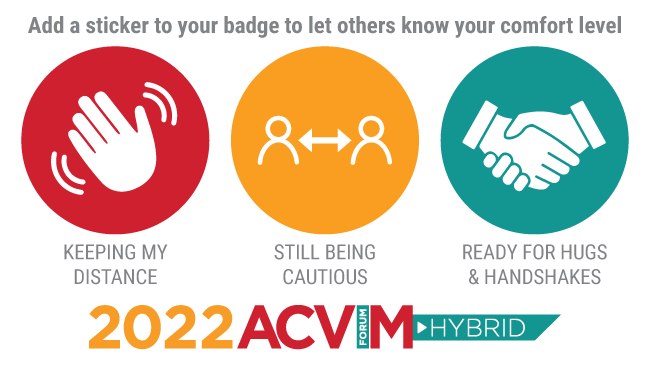 ---
Austin Convention Center Safety Measures
The Austin Convention Center has achieved Global Biorisk Advisory Council® (GBAC) STARTM accreditation, the gold standard for prepared facilities.
Team members will disinfect high-touch areas on a routine basis, including but not limited to elevator buttons, hand railings, door railings, tables, door handles, vending machines and restrooms multiple times throughout the day. Event space will be sanitized before the start of each event and at the end of each day.
Elevator Car Sterilization Fan: UV fan is designed to sterilize, disinfect and purify air within an elevator cab.
Escalator Handrail UV LED Sterilizers
Free-standing hand sanitizer stations throughout the facility.
This is a very fluid situation and we will continue to evaluate what is needed to ensure you are comfortable and we meet safely. Above all, we ask that everyone at the 2022 ACVIM Forum be patient and respect each other's safety and wellbeing.
2022 ACVIM Forum Health & Safety FAQs