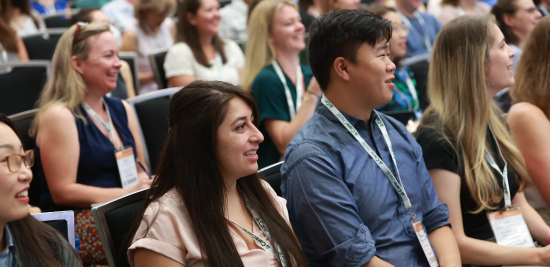 Explore premier sessions in cardiology, large animal internal medicine, neurology, nutrition, oncology and small animal internal medicine, PLUS multispecialty topics including business, leadership and communications, education and research, wellbeing and more. Attendees can find tracks specific to veterinary technicians and hundreds of scientific research abstracts on display -- all together in one place.
Full 2023 ACVIM Forum schedule coming soon!
Discover high-caliber sessions, your way!
RESEARCH FOCUS LECTURES
Research Report – These lectures are 25-minute presentations comprised of new findings and cutting-edge research in veterinary medicine.
Research Abstract – These lectures are 15-minute oral or poster presentations comprised of new findings and cutting-edge research in veterinary medicine.
SCIENTIFIC SESSION LECTURES
Scientific Sessions – These sessions cover the fundamental principles of disease or a specific area of medicine that is derived from evidence-based reports and other similar sources.
State-of-the-Art (SOTA) – Speakers who are recognized as experts in their field of study or topic areas.
Colloquium Sessions – Short presentations on a specific theme in veterinary medicine.
Expert Round Tables – Small group settings that give attendees the chance to interact one-on-one with veterinary experts. Participation for the round tables are limited and on a first-come, first-serve basis.
Industry Sessions – Educational sessions presented by the ACVIM Industry Partners with information about veterinary products and services impacting the industry.
Knowledge Corners – Quick learning sessions in the Solutions Center for all conference attendees.
Lunch with the Expert – Lunch with a veterinary expert in a small group setting.

Special Interest Groups – Meetings with fellow attendees with a common interest in the veterinary field.

Wellbeing Zone – Short presentations focused on mental wellbeing and helpful tools, for all conference attendees.

Workshops – Short courses that demonstrate the application of skills and principles using animal models, videotapes or slides.
Livestream- A live broadcast for virtual attendees in conjunction with the in-person offerings.
On Demand- Recorded sessions to be played at any time
Live Virtual- Virtual sessions offered at a specific time on a specific day.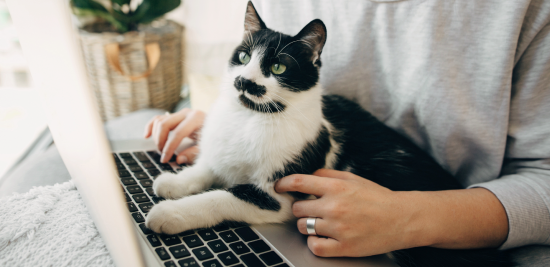 More ways to celebrate with virtual offerings!
The 2023 ACVIM Forum Virtual Day will be held on June 28, 2023. This one-day exclusive event will feature eight session tracks in all the ACVIM specialties and beyond, virtual networking opportunities with other attendees and live Q&As with the speakers. All attendees are invited to experience these live-virtual sessions from a lineup of expert speakers.
Engage in sessions and learn about the newest advancements made in veterinary internal medicine by tuning in for the limited livestream direct from Philadelphia. Plus, hundreds of on-demand sessions will be accessible through October 31, 2023.
"I come to ACVIM Forum so that I can see what was happening as far as the cutting-edge research, to be able to interact with people who are specialists in things, and to be able to just get that additional insight that you can't really get anywhere else."
"Every year I find multiple pages of things I can use to be a better veterinarian and provide better care. The increased information and care that I can provide always pays for the cost of the conference many times over."
"The detail of the lectures and the quality of medicine that we're seeing and the quality of research that we're learning about is very high."

"The ACVIM Forum provides the most in-depth CE for specialists and active veterinary practitioners."

Beyond education
Throughout the live event, attendees can choose from several networking and entertainment opportunities curated to veterinary professionals. In between educational sessions, connect with other veterinary specialists in the specialist's lounge, enjoy lunch with the experts or relax in the wellbeing lounge.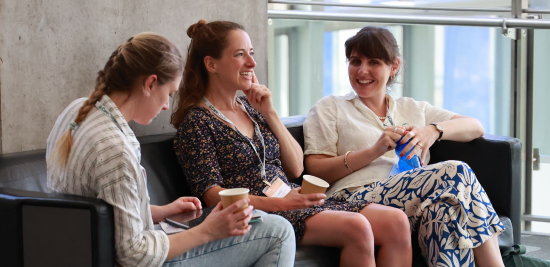 Technician-focused programs

The ACVIM Forum has been home to The Academy of Internal Medicine Veterinary Technicians (AIMVT) educational program for 20 years. The annual conference is a chance to connect with peers, elevate your knowledge and learn from experts in your field. The 2023 ACVIM Forum marks 40 years of educational excellence and endless opportunities to be part of this milestone celebration. Join us at the must-attend annual conference for specialty veterinary technicians!
"I have a hard time picking what I want to go to because there's so many great things that are available."
"This is where I can get higher level CE that's relevant to me and actually would be new information."